PART 1 - GETTING THERE

December 2, 2000, has finally arrived, and we are finally on our way.  I've done a lot of research and legwork to get this far, so I hope it pays off with a smooth journey.  However, the first indications are not good  the limo company called our house at 3:45 a.m. (an hour before the expected pick-up time) for directions, as if I hadn't offered them just yesterday when confirming our reservation.  But since our alarm was set for 4:00 a.m., we only lost a few minutes of sleep.  In any event, the driver was parked in front of our house in plenty of time.

We arrived at BWI at 5 a.m., two hours before departure as prescribed, and were glad to be flying first class (thanks to frequent flier miles) because the check-in lines were long. Bare-legged, wearing sandals and a skirt, it was a bit cold, but sure beat bringing along extra clothes since on a sailboat stowage space is at a premium.  Besides, Rick's duffel has a lot of extra stuff in it, including a wetsuit and snorkeling gear.  Our flight to San Juan departed right on time and we arrived before noon.

After much looking around (SJU does not have a SINGLE monitor showing Arrivals in the terminal), we finally found out the gate where Rick's parents, Jim and Ardy, were arriving from Dulles, and met their flight.  With over 6 hours to kill, we planned to visit Old San Juan.  After even more looking around, we found the luggage service office where we could, for a fee of $3 per bag, leave our carry-ons while we explored.  Soon we were in a taxi en route to the old city.  It took 20 minutes and $16 (the flat rate for all trips between the airport and Old San Juan), the longest part of the trip being the squeezing through the narrow cobbled streets of the area.

Rather than continuing in the slow-crawling taxi, we jumped out and started our walking tour by looking for our lunch destination, La Mallorquina, reputed to be the oldest Puerto Rican restaurant in San Juan and recommended by many guides.  Thus far, mine and Rick's observations of the old city led to comparisons to New Orleans (where I had gone to college and Rick and I visit regularly), including, at times, the smell of the standing "water" in the gutters, and our lunch spot fit right in.  With arched doorways, high ceilings with fans, coral-painted walls,  dark wood, and dimmed lighting, the place had the sleepy, sultry feel of an afternoon siesta on a hot summer day.  As San Juan is the birthplace of the pina colada, Ardy and I ordered those for starters, and Rick and Jim had the local brew, Medalla, both of which were refreshing.  Following my friend Carmina's recommendation, I had shrimp asopao, a soupy rice stew (not unlike gumbo) with shrimp, peppers and peas in a tomato-y base.  It was delicious, as was the chicken asopao and baked fresh (not smoked) ham ordered at our table.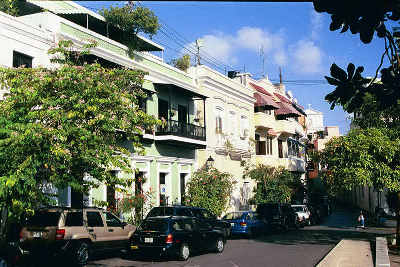 After lunch, we wandered the streets of the old city, with its cobbled streets, iron balconies, and brightly painted ancient buildings covered with flowering plants.  On this sunny day, it was a feast for the eyes.  Our strolling led us to El Morro, the centuries-old fortifications standing guard over the peninsula and watching the harbour entrance.  Jutting out into the Caribbean Sea, the walls of this seemingly-impregnable fortress were a monument to man's industry and ingenuity, as well as providing a sense of history and security.  Alas, by now it was 4 p.m. and time to head back to the airport.

We collected our carry-on luggage and went to meet my parents, Kris and Mirek.  Their flight from O'Hare was delayed a few minutes, but we met them and made it to our departure gate in plenty of time.  Our Grenada-bound flight was a bit delayed as well, and Rick and I drew seats right next to the props, vibrating the entire 2 ½ hour trip to Point Salines International Airport.  Immigration and customs were a breeze, and soon we were in a van, bumping along the horrible roads in the L'anse Aux Epines (Prickly Bay) area towards Mt. Hartman Bay and Secret Harbour.

We finally checked into our rooms around 9:45 p.m., mine and Rick's journey taking a total of 17 hours (taking into account the time change) from limo pick-up at our home to finally collapsing into our hotel room.  But as soon as we dropped our bags, we turned right around and headed for the bar, where we enjoyed the first of many Grenadian rum punches (made with Westerhall rum, our favorite, and topped with the trademark scraping of nutmeg) and Grenadian-brewed Carib beer (those of us lucky enough to buy this beer in the States are getting the Trinidadian-brewed counterpart).  Rick's parents wandered up to the bar as well, and we sat with them in wicker chairs in an alcove overlooking the sea before we finally gave in to the need to shower and sleep.

Rick and I have stayed at Secret Harbour before, and it is a truly remarkable property.  Carved out of a hillside overlooking picturesque Mt. Hartman Bay on Grenada's southern coast, it features 20 or so paired units hanging over the harbour.  Each white- stuccoed red-tile-roofed unit is entered through a wood lattice doorway onto the unit's large semicircular deck, which faces the water.  From the deck, a huge arched doorway provides access to the air-conditioned interior , but the doorway is also screened for those, like me, who insist on natural climate control and the sounds of the islands.  Each unit has high beamed ceilings and Italian tiled floors.  A sitting area is set off from the sleeping area with brick archways, and the beds are mahogany 4-posters.  A refrigerator completes the set up.  The bathrooms are mosaic tiled and include a double vanity, sunken tub, and circular stained-glass window overlooking the water.  (Apparently, this hotel has become so popular that Moorings has instituted a 5-day minimum stay requirement, and houses its charter guest at other properties on Grenada.  Indeed, we had been assigned to stay at the Grenada Grand Beach Resort prior to our sail.  However, I had expressed my preference to stay at Secret Harbour to the Moorings, and given that we would be staying 2 nights before our charter (and probably helped by the fact that Rick and I are repeat Moorings charterers), the policy was waived and we were able to stay here before our sail).