BELIZE

February, 1999

Part 1:  Getting to Ambergris Caye

A balmy breeze billowing sheer curtains out from the half-open balcony door, with just enough coolness to require being covered by a sheet.  Palm fronds clack-clack-clacking in the wind so that you're not sure, without getting up and looking, whether its raining or not.  The steady whir of the ceiling fans, hanging from a palmetto beam bracing the high, thatched ceiling.  The slowly pinkening morning sky, not yet the day's clear blue.  The drone of a distant boat engine, making an early run to the more faraway dive destinations: Blue Hole, Turneffe Atoll, Lighthouse Reef.  And not least, the whine of arriving and departing small aircraft at the nearby landing strip. 

If you need to be awake at 7 a.m., there is no more pleasant a wake-up call to be had than the comforting sensations of most mornings at Ramon's Village on this island off  the coast of Belize, Central America.  And it sets the tone for days as indolent and lazy, or virtuous and active as you want.  The first week of February, 1999, found me and Rick in this wonderfully quirky, barefoot casual and rustic place, ever-so-reminiscent of the Caribbean we've come to know so well, yet redolent of Mayan culture and the newly-popularized ecological treasures of its reefs and jungles.

I've wanted to go to Belize ever since I was in college.  Back then, the biology club drove from New Orleans, through Mexico and Guatemala, to Belize, to explore the rain forests, jungles and reefs.  The stories my friend Ken told of lush forests, waterfalls, wild creatures and private island beaches (where one of our classmate's family, which owned such an island, hosted the group) enthralled me.  Magazine articles did nothing to dampen my interest.  They told of sandy streets, houses on stilts, sunbaked islands, free-flowing rum and Belikin beer, and funky undiscovered villages populated by free spirits.  In short, an ideal vacation destination. 

We kept coming closer and closer to actually planning a trip to Belize; the closest was actually getting brochures and pricing air and hotel for last September, 1998.   But in September we went sailing in the BVI instead, an ill-fated or exceedingly memorable (depending on how you choose to look at it) trip because of our run-in with Hurricane Georges.   When we returned from the BVI, we finally told our travel agent, Don, to book a trip to Belize, only to watch in horror as monster Hurricane Mitch threatened and lashed the Belizean coast, only to wreak its ultimate devastation on Honduras.  I could not watch the news of this storm without tears for weeks, and made a large donation to the Red Cross to do what little I could to help the victims.

Despite the loss of most docks on the island of Ambergris Caye, tourism was back in business just days after Mitch passed, Belize having only received a glancing blow, and the vast barrier reef protecting land from more serious damage from the huge waves kicked up by the storm.  I told Don to book the trip, and we were on our way.

We were traveling from Sunday, January 31, through Sunday, February 7. On Sunday morning, as usual, we were up long before the sun in order to catch our flights.  We have given ourselves roughly 30 minutes to get ourselves together before the limo shows up, but its easy since my make-up and hairstying efforts will be rudimentary at best, and Rick won't even bother shaving.  Besides, we have laid out our clothes the night before.  I think dressing for a January departure from the temperate zone to an arrival in the tropics is about the hardest packing dilemma of our travels.  Hiring a limo to take us to the airport reduces the time actually spent outside, so we have more freedom to wear lighter clothes, but we can't be too cavalier.  I end up in cotton pants,  a sports top under a sleeveless cotton shirt under a denim button-down shirt under a nylon anorak, with sockless Topsiders.  Rick is dressed similarly.  If nothing else, the cold temperatures aboard airplanes make it necessary to have an extra layer on.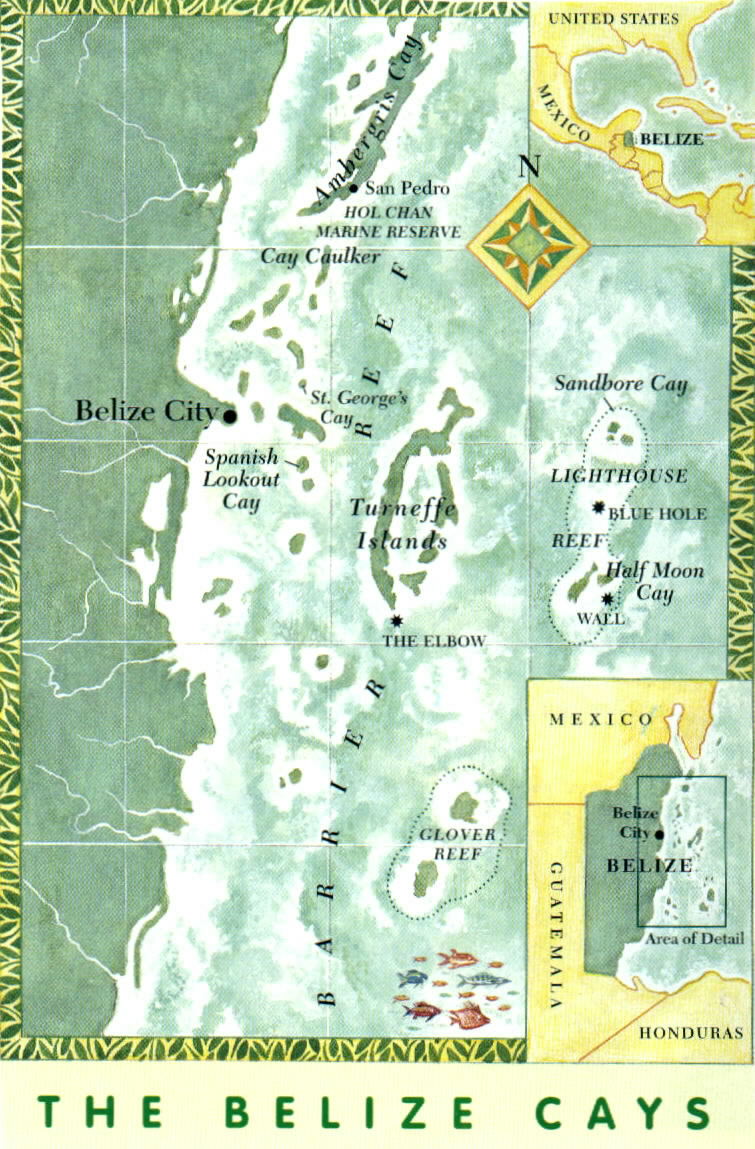 It is actually cold in Maryland this morning.  We've had a crazy winter full of 60 and 70 degree days, but the weather has finally become more seasonable, making a tropical escape more fitting.  We can see our breath as we climb into the Cadillac that takes us to the airport very early this morning.  We find a short line to check-in at Continental, so we have plenty of time to get some coffee (we must have our caffeine, after all) and reading material.

Our flight from Baltimore to Houston's George Bush Intercontinental Airport is a bumpy one.   We made our connection to Belize International in plenty of time, and arrived there on time.  Landing at Belize International had the same look and feel as every other Caribbean landing we'd ever made, except that there was more land.  Belize is situated south of Mexico's Yucatan peninsula, and bordered to the west and south (just a sliver there) by Guatemala.  The eastern frontier is the warm, welcoming and familiar Caribbean Sea.  The airport, though surrounded by sand, scrub and swamp, was a bit more substantial than the shacks to which we are accustomed at less populous destinations, and there were actually jets here.  Not only our Continental flight, but an earlier-arriving American Airlines flight from Miami, and a couple of Taca jets coming from Miami or New Orleans or Houston.

We made our way down a none-too-steady flight of stairs, and across the breezy tarmac, to the immigration line.  Despite the longer runway at Belize International, they can still only muster up three immigration

agents. Even Tortola, with its semi-paved landing strip on teeny Beef Island which can accommodate nothing larger than an American Eagle Saab propeller plane, has that many agents on duty.  I took advantage of the longish wait by shucking my denim shirt and availing myself of the ladies room, a one-seater for which there was a several minute wait.  Even so, by the time I re-joined Rick in line, he had hardly moved at all.  Part of the problem was that the flight attendants had given incorrect instructions as to how many of which forms arriving passengers needed to have completed.  Luckily, I ignored their instructions and did it right.

By the time we got to the stony-faced immigration agent, I was wet with sweat despite having lost two of the layers of clothing I started with.  The good news was that our long wait in immigration meant that our plane had been off-loaded in the meantime, so that when we got to the baggage "carousel,"  which was nothing more than a room into which baggage was tossed, we quickly picked up our distinctive teal and purple duffels and lined up for customs.  The customs process was much shorter than immigration, and once through that, we were in the main terminal.

Our travel documents directed us to find Discovery Expeditions in the main terminal, which was to assist us with our air transfers to Ambergris Caye.  After wandering around for a few minutes, Rick finally asked for help, and we found the Discovery Expeditions kiosk outside the terminal.  The agent there scooped up our bags and walked us right back into the terminal, where we lined up (yet again) for the 3:30 pm Maya Island Air flight to Ambergris Caye.  Of course, by the time we got to the front of the line, the 3:30 flight was full, so they gave us boarding passes for the 4:00 flight and sent our bags away. 

We went through security  with what was left of our belongings (camera bag and wallet), the rest having been checked through because the planes are so small, there is virtually no overhead or under-seat storage for carry-on bags.  The departure lounge was air-conditioned, and we strolled around, looking at the gift shops and photographs of the islands. But we had no chance to linger, as a Maya Island representative walked up to us and "invited" one of us to go out on the 3:30 flight.  We demurred, wanting to stay together.  The agent insisted: "We would like one of you on the flight," and promised that the one left behind would be moved up to the 3:45 flight.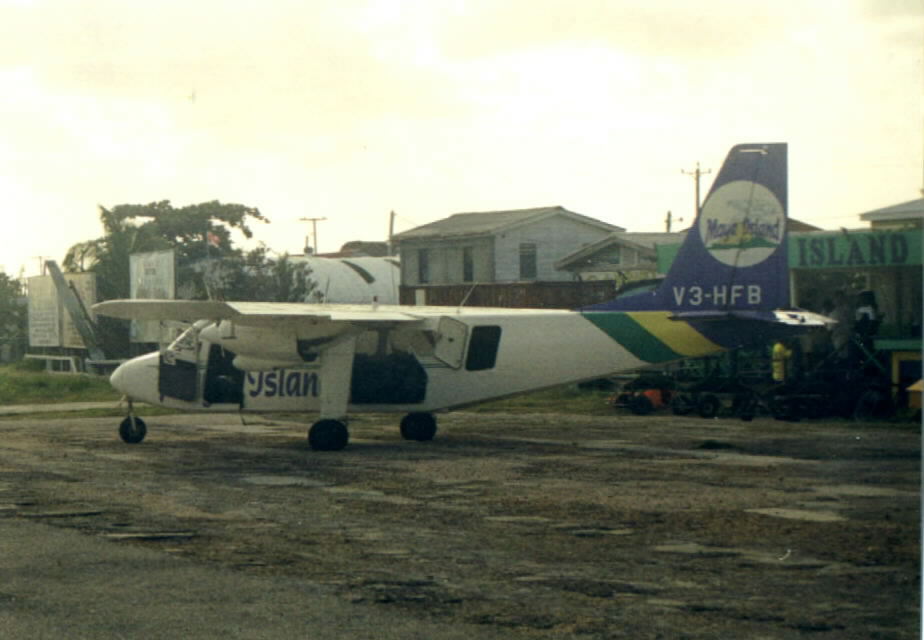 I guess they needed to fill the plane, or balance the weight, or whatever.  Rick was spirited away to the flight, and I was left in the airport, holding only my boarding card and my wallet (no passports, no travel docs, no plane tix, no nothing!).  So I deposited myself in the seats closest to the podium, and kept my eyes on the Maya Island agent. Ten minutes later, he ushered me out to a waiting plane on the tarmac.

The plane was tiny and old;  a cockpit, and maybe 4 bench seats (accommodating 2 passengers each) behind it.  No aisle, no overhead bins.  I climbed in the back seat and buckled my belt, but the representative "invited" me to sit up front with the pilot..  The quarters up front were close, and I was inches away from all the controls and pressed snugly against the large

Our Maya Island plane, on the "tarmac" at San Pedro.

Mayan-looking pilot.  It could have been scary, I suppose, but I thought it was pretty cool.

Our 17-minute flight took off in short order, just seconds after a departing Tropic Air flight heading to Ambergris (this was, apparently, rush hour for San Pedro).  We got up maybe 900 feet, and the view of the Caribbean Sea was spectacular.  It was over in no time, with the pilot dropping us gently on the cracked blacktop of the San Pedro runway.  Several other planes were parked at the end of the runway, as the pilot expertly decanted us next to the purple- painted, thatch-roofed porch connected to what passed for Maya Island's ticket office.  Rick was waiting for me there, as were all of our bags.  We matched our tags to our claims tickets and within minutes of the airline agent's call, the 6-seat golf cart from Ramon's came for us.