PART 2: SETTING SAIL (ST. LUCIA TO BEQUIA)

Saturday morning dawns stormy, transforming the colors of Marigot Bay to a rich, opaque green.  By now, we are rested, relaxed and ready to hit the high seas.  I looked forward to visiting spots I had long fantasized about.  As we prepare for our sail, we wonder about who our boatmates will be, but not unduly worried because we know we will make the best of whatever combination of personalities we get.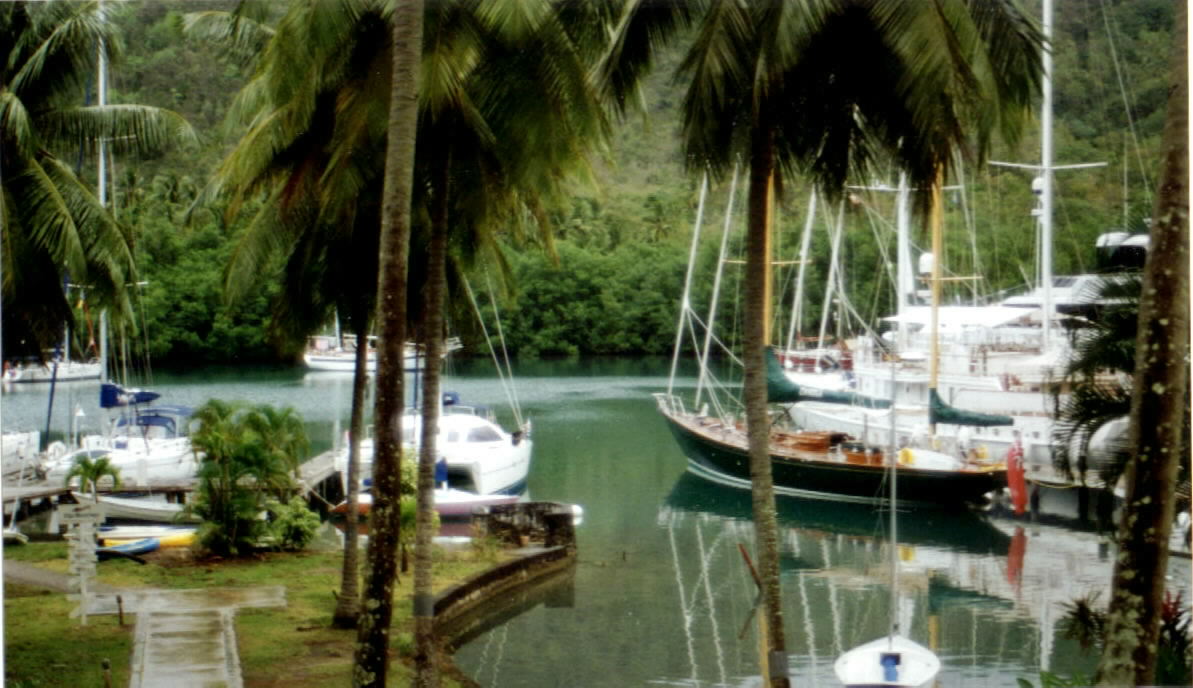 Rain transforms Marigot Bay into a vision of greens.

We picked up breakfast at the small supermarket and hope the rain will pass.  Around noon, we made our way to the dock and met our crew, both from England.  Jerry is tan and lean with brown curly hair, and is in his mid-30s.  Vivian, his girlfriend, is in her early 20s and has straight blond hair down to her waist.  The other guests are Dieter and Dorothea Rosskamp from Germany, and John and Janet Bradley from England.  Both couples are retired (the Rosskamps are in their 70s), but very fit, but we are (together with Jerry and Viv) younger than them by decades.  Should be an interesting dynamic.  We are sailing aboard My Baby II, a 50 foot monohull.

After freeing ourselves of shoes and getting settled in our tight but tidy cabins, we got underway just after noon and enjoyed a sail to a small cove near Canaries, St. Lucia.  A few of us went ashore to play on the beach, which had dark sand, lots of rocks, and rough surf.  Rick snorkeled a bit.  Lunch was chicken roti with "Damn Hot" sauce.  We sailed on to Jalouise Bay, St. Lucia, which is nestled beneath the emblematic Pitons, twin volcanic peaks which lend their name and identity to nearly everything St. Lucian.  The view was breathtaking but the anchorage proved to be rather rolly.

Jerry arranged for us to have a tour of Jalousie Plantation, the upscale resort located here.  The property is quite lovely, attractively landscaped right down to what I understand is a man-made beach.  We saw two weddings taking place, but in both cases, the bridal couples appeared to be alone on this special day, not having brought family or friends with them.  As well, they seemed out of place in long-sleeved full-length gowns and tuxedos, not at all the attire one thinks of for such a lush, tropical setting.  We then had a few drinks at the beach bar and watched the sun set before returning to our boat for a dinner of chicken breasts, rice and vegetables, preceded by Painkillers (the BVI cocktail of rum, orange and pineapple juices and cream of coconut with a nutmeg garnish). 

It was a difficult night, with the constant surge in the anchorage frustrating what would normally be a rough night anyway, given the acclimation required to sleep on a boat.  However, we did find it more comfortable than our last sailing trip in the BVI, because steady breezes kept the temperature comfortable.  And morning brought the reward for lasting the night in this bay: an out-the-porthole view from bed at the sunrise vista of the Pitons.


St. Lucia's dramatic Pitons are behind us as we sail towards St. Vincent and the Grenadines.

On Sunday, we will make the passage from St. Lucia to St. Vincent, and on to Bequia.  We bid the hulking Pitons goodbye and make an early start.  I headed for the foredeck to get some sun.  En route, we watched a school of dolphin play in our wake, and caught a kingfish and a dorado (aka dolphin or mahi mahi) off our stern, which would sustain us and other sailors for several days.  Although a bright, sunny day, conditions were ripe for me to get seasick: 15-25 knots of wind, seas of 4-8 feet running abeam, and a long crossing during which we would lose sight of land.  To complicate matters, I decided not to use any chemical seasickness preventatives other than ginger capsules, ginger snaps having solved my tendency to get sick on our own 26' C&C sloop.  I was keeping it together until I went to the cockpit and got a whiff of the fish, whereupon I promptly tossed my breakfast over the side.  I was done for, so I applied a patch, popped a Dramamine, and prayed for the passage to be over.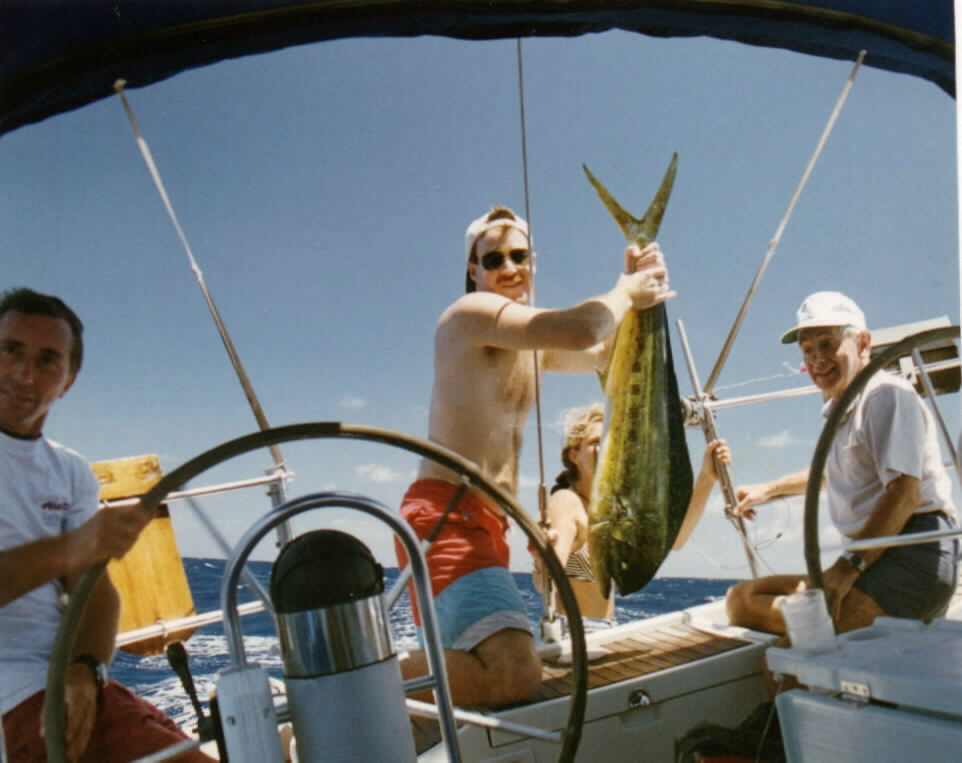 Rick shows off the dorado (mahi mahi) caught by trailing a handline off My Baby II's stern.

Monday morning we spent exploring the Admiralty Bay area.  The market was bustling, and we stopped there as well as the miniature boat shops.  We also had a good look at some of the small racing sailboats hand-built by Bequians, as many were lined up, with their shiny varnished hulls, on the beach.  Mid-morning, it was time to move on.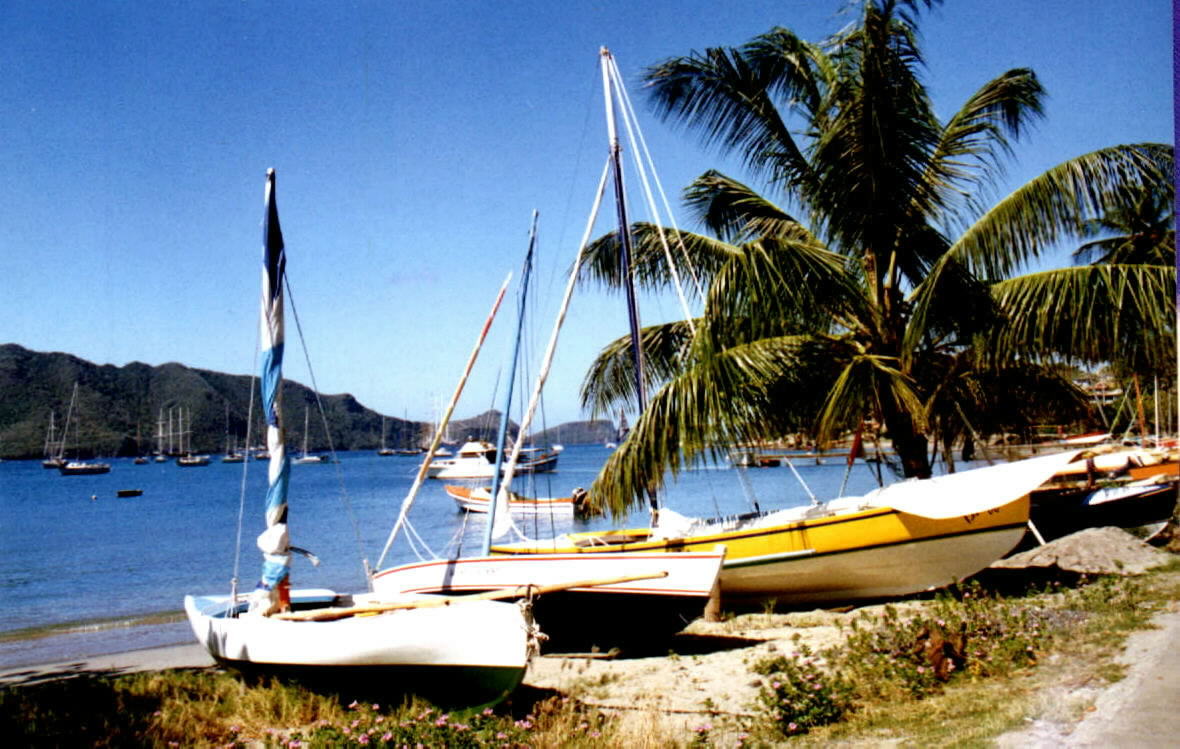 Bequians are justly known for their boat-building skills, whether those boats are miniature or life-sized, as shown here.