SAILING FROM ST. LUCIA TO GRENADA

March, 1996

Part 1: St. Lucia

We have been waiting a very long time for this trip, but Mother Nature kept interfering.  After our maiden sailing vacation in the British Virgin Islands in 1993, we kept eyeing Moorings brochures longingly.  The Grenadines looked so enticing, so faraway, so secluded.  All we needed was time to get away, a commodity not readily available to us.

By this time, we owned our own sailboat and had put together enough experience to charter a sailboat without a crew.  But finding it difficult to put together a crew of friends with the time and money to join us, we decided to go on a Moorings "rent a stateroom" trip from St. Lucia to Grenada, where we would sail with potluck strangers and a crew.  In September, 1995, we finally got it together and cleared our desks and calendars for an 11 day getaway.  But when I got home the Wednesday night before our planned departure, an ominous red blinking light on my answering machine heralded bad news.  A call from the Moorings: Hurricane Marilyn was barreling right towards St. Lucia and our sailing was cancelled.  The call from American Airlines canceling our flights followed.

Luckily for St. Lucia, Marilyn never did hit.  And we were able to take advantage of our 11 days off to sail our own boat under superlative (for September) conditions on the Chesapeake, and then spend a week at Seabrook Island, South Carolina on short notice.  We rebooked our St. Lucia trip, paid up the premium for high season travel, and FINALLY in March of 1996, we were bound for St. Lucia.

Early in the morning of Thursday, March 21, we took a limousine to BWI, catching the now-familiar early flight to San Juan, American Airlines' Caribbean hub.  Here, we ran to catch our flight to St. Lucia's Hewanorra Airport on the windward side of the island.  The views of the green, craggy peaks and deep, lush valleys of St. Lucia foretold ten days of the rich greens, crystalline blues, and creamy golds of these Windward Islands.

Upon landing, we quickly cleared immigration and customs and met the friendly taxi driver who would take us to the Moorings base in Marigot Bay.  His pleasant banter made the long-ish drive over seem much faster, as he gave us a brief tour of the island, including a photo stop overlooking the picturesque fishing village of Dennery on the Atlantic Ocean, where ocean waves rhythmically made landfall.  We crashed over potholes and eyed stands of palms which were more South Pacific than Caribbean.

We had made it almost all the way to Marigot Bay before hitting a traffic jam.  The road to Marigot Bay was under construction, and we sat and sat and sat, sucking asphalt fumes, until the asphalt truck was finished with its work.  Thankfully, when we finally reached the Moorings' open air reception area, we were greeted with STRONG rum punches to ease away the sweat and kinks of our long journey.  We checked in and traversed a narrow walk, past the restaurant and pool overlooking the docks, to our stone cottage.

All of the cottages here face the bay.  Each paired unit has a round sitting area with screened (but not glazed) windows all the way around, with a stone floor and rattan furnishings, including a small kitchenette, bar, sofa, table and chairs.  The sleeping area is adjacent, with stone walls and batik decorations.  Finally, a small and somewhat musty bath completes the suite.  Just outside the door is a small stone patio. 

More importantly, just outside the door of our cottage is a close-up view of one of the most spectacular anchorages in the Caribbean.  The bay is so snug that in the old days of pirates and adventurers, Marigot Bay was considered a safe place to hide because, unless you knew to look for it, the entrance to the harbour from the Caribbean Sea was almost invisible.  High, jungle-covered hills meet the green water here.  The grounds are lushly landscaped with mature palms and flowering plants all the way down to the water's edge.  And if it all looks hauntingly familiar, it may be because you've seen the giant snail in the film Dr. Doolittle make its stately progress into this very anchorage.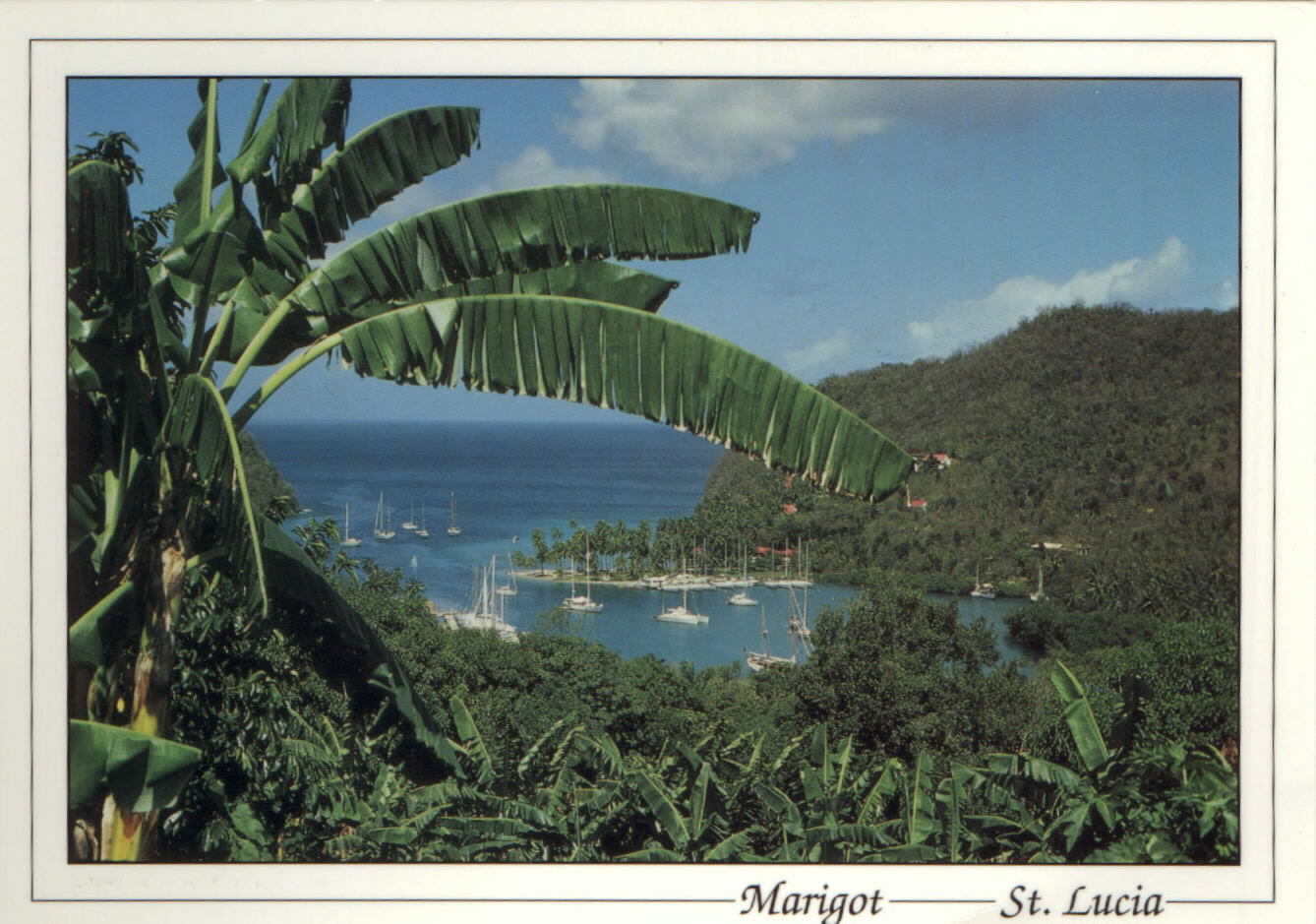 A picture postcard view of St. Lucia's stunning Marigot Bay.

While Rick makes some phone calls to the office, I exchange my traveling clothes for a swimsuit, find my way to the bar for a rum punch and a Piton (the local beer), and take my drinks to the pool.  Rick soon joins me to soak away the dirt and grime of a long, hot journey.  After showers, we head for the open-air restaurant for an early dinner (triggerfish for me, mahi mahi for Rick).   Then we head for bed, lulled to sleep by the sound of tree frogs.

On Friday, we have an entire day to ourselves before sailing.  Rather than renting a car and exploring the island, as we normally do, we decided to take it easy.  Following breakfast and a visit to the boutique, we hopped on the

ferry to take us across the harbour to the small beach at Marigot Beach Club.  The beach wasn't especially noteworthy, with shallow water and rocky bottom, but it beat the heck out of winter.  Besides, all the necessary Caribbean sounds surround us as we lay under the sun with our eyes closed: native patois, banging on conchs, reggae music, wind clattering in the palms, and the slap of wavelets. 

Although we are typically island explorers eager to take in the sights and sounds of any place we visit, we chose to while away our pre-charter time much more languidly.  Nevertheless, our reverie was not without interruption.  At one point, we were disturbed by the sound of a helicopter landing on the motor yacht which so noisily docked at the marina in the middle of the night before.  We also entertained the beach vendors which seem to frequent the beaches in poorer Caribbean countries, buying a coconut from one native entrepreneur, and a black coral bracelet from another (not really knowing whether it is legal to do so or not).  We had lunch at the Paradise Café on site (flying fish for me, club sandwich for Rick), and then spent a little more time on the beach before returning on the ferry.  Had a swim in the pool, a shower, happy hour, and then another early dinner.  Island life can be very simple.

What little we have seen of St. Lucia at Marigot Bay was enticing.  Unlike the scrubby, arid landscapes of some other islands in the Caribbean, St. Lucia is jungly and lush, covered with dense blankets of vegetation, palm trees and unusual flowers.  The smells that surrounded us were those of earth and rain, the very essence of fecundity.